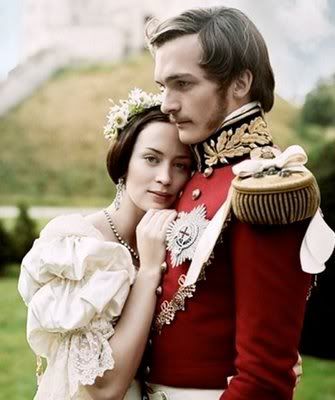 Another film I recently saw in theatres is The Young Victoria, starring lovely Emily Blunt in the title role, along with Rupert Friend as Albert, and some other terrific British actors. Having recently been to London and having just visited Buckingham Palace and the Victoria & Albert Museum, this film was especially enjoyable to watch. It's a period piece full of extravagant sets, costumes, feasts, and other royal treats. Just the look of the film on the big screen is worth the ticket price if you enjoy that kind of beauty :) Which I must confess I do :)
In terms of character and story, it was a little bit inconsistent. Initially the focus is on politics and Victoria's struggle with even getting to the throne, while other figures stand in her way and attempt to take advantage of her youth and inexperience in order to achieve their own goals. Emily Blunt melts into her role perfectly and is surprisingly convincing and sympathetic as the young queen. In her previous roles she has played mainly icy characters, so this a complete (and very successful) turnaround. I should mention that in this film, the youthful Queen V is portrayed as a warm, energetic, lively young woman rather than as the austere, frowning figure typically associated with her name.
The story gets more interesting and much more engaging when her relationship with Albert starts to deepen. Rupert Friend is also brilliant in his performance and it is easy to understand how Queen V fell in love with this compassionate, soft-spoken, intelligent, earnest young man. Just as she was being used, he too was maneuvered and ordered about so other people could pursue their carefully hatched political plans. The two came together and their marriage created a strong foundation that empowered and liberated them so that they could rule in their own way.
It's interesting that in a film about royalty and politics, the most believable and interesting aspect turns out to be the love story. And in this case, the love story isn't just heart-warming fluff, but likely the very reason why the Queen went on to have such a long reign after a very rocky start. Apart from each other, both felt somewhat useless and fumbled about unable to bring their ideas to fruition. Together, they became strong, confident, and able to effect the world around them.
This was such an interesting time in history. My favourite books are still Victorian novels and anything about this particular time stokes my interest and passion. Long live Victorian costume dramas :)